I'm baaaaaack!
Miss me? In case you hadn't noticed (don't worry, I'll try not to let my feelings get hurt), I was a bit off the grid for much of the past week. We made the long drive from Florida to the mountains of western North Carolina for my husband's niece's wedding.
We left on Thursday night after work and drove as long as DadJovi could stay awake. We ended up stopping around 12:30 a.m. somewhere in South Carolina. Here's the thing — South Carolina is the biggest station in the U.S. It's a fact. The state never, ever ends. You fly right through Florida and Georgia. But South Carolina? You're in that state forever. Every single trip I've ever made up or down the eastern seaboard always has us asking, "Seriously, how big is South Carolina?" On a map, it appears small. But it's not. It never ends. (Can you tell we talk about this fact a lot on road trips??)
E. was a champ in the car. She colored, read books and played games on her dad's iPhone. Eventually, she watched "Up," the only movie we've figured out how to download to his phone and fell asleep somewhere in — you guessed it — South Carolina.
Obviously, we stayed at our favorite hotel — Holiday Inn Express. For as many times as we've sought out and stayed at a HIE, I really need to get them to sponsor my blog. The hotels are just reliably clean, usually relatively new and you can't beat the free breakfast. Hello, conveyor belt pancakes!
We slept in a bit in the morning, and we were back on the road by 10 a.m. Thankfully, it was only a couple hours until our destination of Cashiers, North Carolina. The drive was beautiful. It took us through National Forests and up winding mountain roads.
And when we arrived, we were instantly charmed by the small, beautiful town.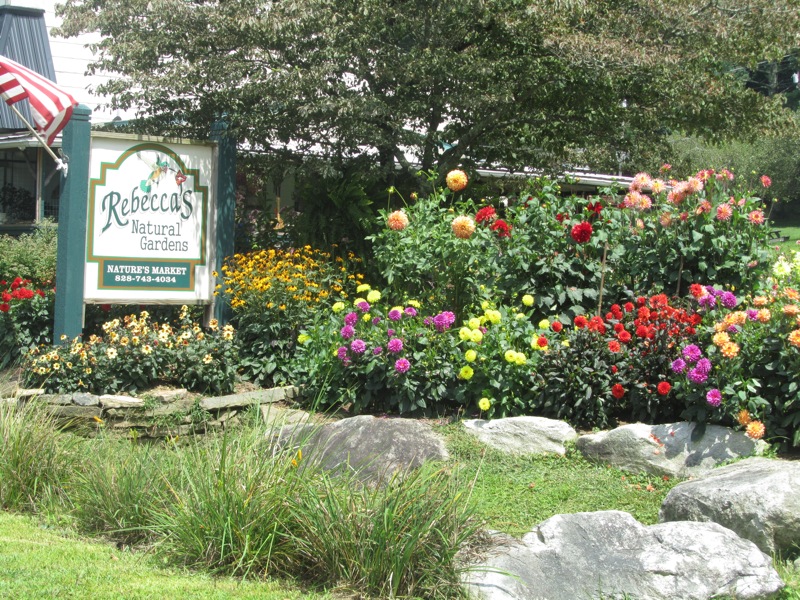 Before we even headed to the hotel, a particularly adorable restaurant caught our attention. So, we figured, let's get some lunch first!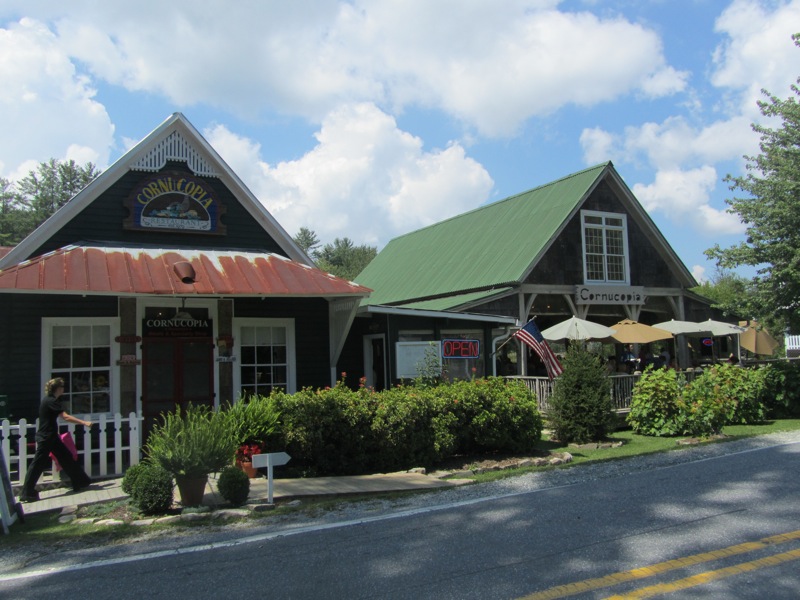 Cornucopia is wonderful. It was a gorgeous, crisp day (at least for us Floridians used to summer swampy weather), so we sat outside on the restaurant's huge porch.
We had a hard time deciding because everything looked so dang good. E's turkey sandwich came out first, and have you ever seen a more gorgeous serving of fruit?
Since neither DadJovi nor I could decide, we decided to pick two and share. For starters, we had the flat iron steak spinach salad. We picked this because the restaurant also has an attached cheese shop and we just couldn't resist the description of the blue cheese on it.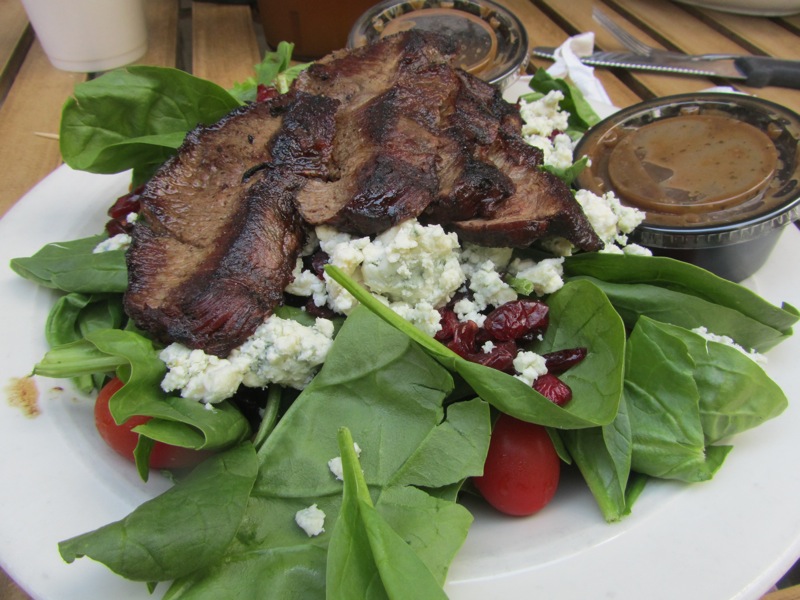 But the real star was the fried green tomato sandwich.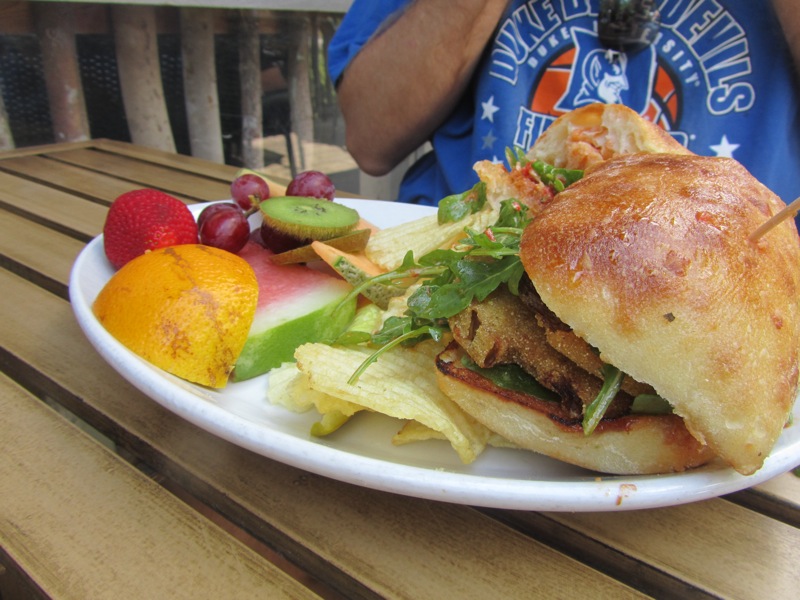 Holy awesome, y'all. Why don't more places pair fried green tomatoes with feta and roasted red peppers?!? Nearly a week later, we're still talking about this sandwich. It was legendary.
After lunch, it was time to head to the hotel.
The wedding was held at the High Hampton Inn, a place with a history that dates back to the 19th century. It was like a cross between being in "Gone With the Wind" and "Dirty Dancing." On one hand, you have all this rich, Southern rural history (Wade Hampton III, the future Confederate Major General and South Carolina Governor, purchased the property and used it as a hunting lodge. In 1890, his niece and her husband, a famous surgeon at Johns Hopkins, purchased it and turned it into the resort it is today) combined with the beauty of mountain lake resort.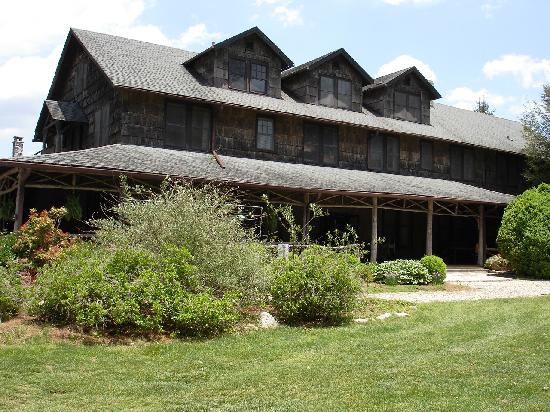 (IMAGE SOURCE)
The resort has one main lodge and many other cabins scattered throughout the grounds. We stayed in the Hampton House, which oddly I forgot to take a picture of. Bad blogger. But in my defense, I was too busy taking pictures of other places around the property.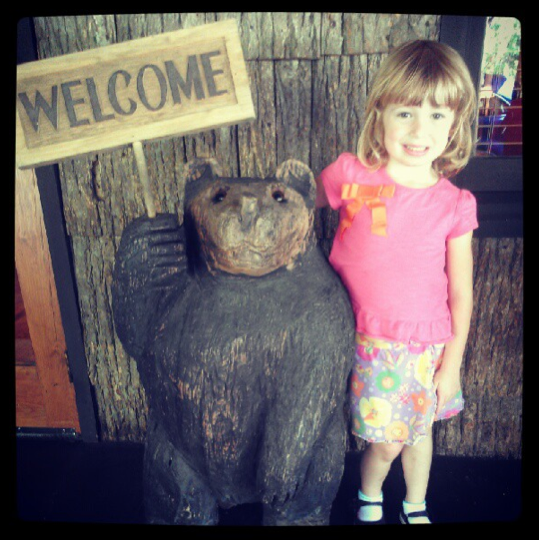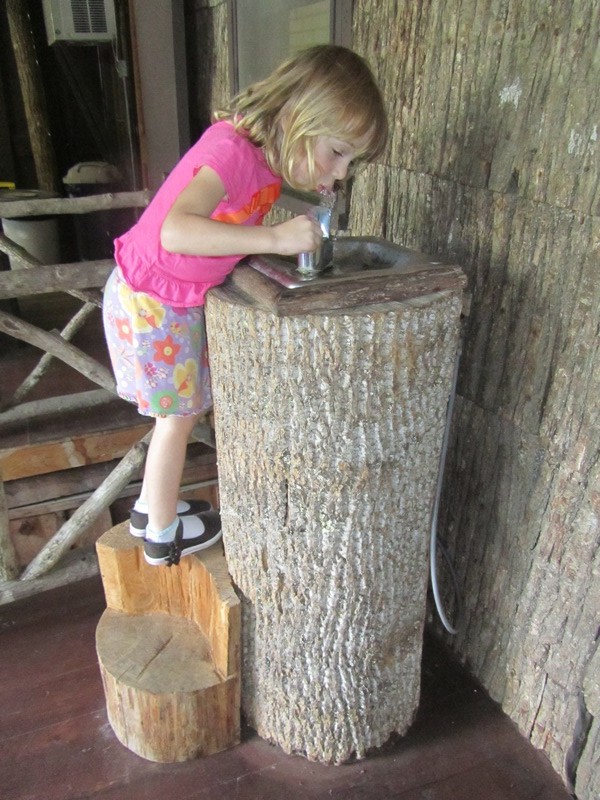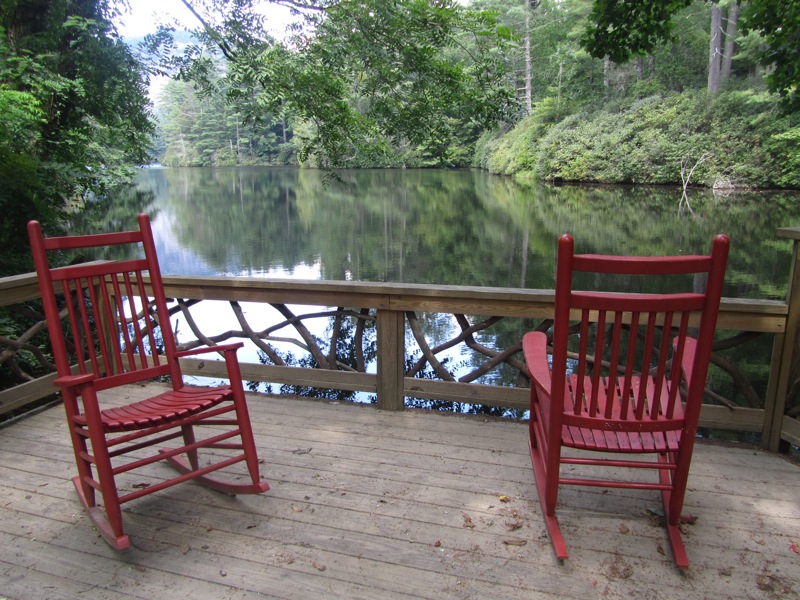 By the way, the red rocking chairs are the High Hampton Inn's "thing" — they're everywhere. Every cabin/room has them on their porch or balcony and red Adirondacks are scattered throughout the resort. Doesn't it just make you relax to look at them? Know what was even more relaxing? Hearing this waterfall, which was directly behind our cabin, all night long.
The High Hampton Inn also features a number of hiking trails (more on them in a later post) that take you around the huge property, including across its golf course, through the forest and past these two guys.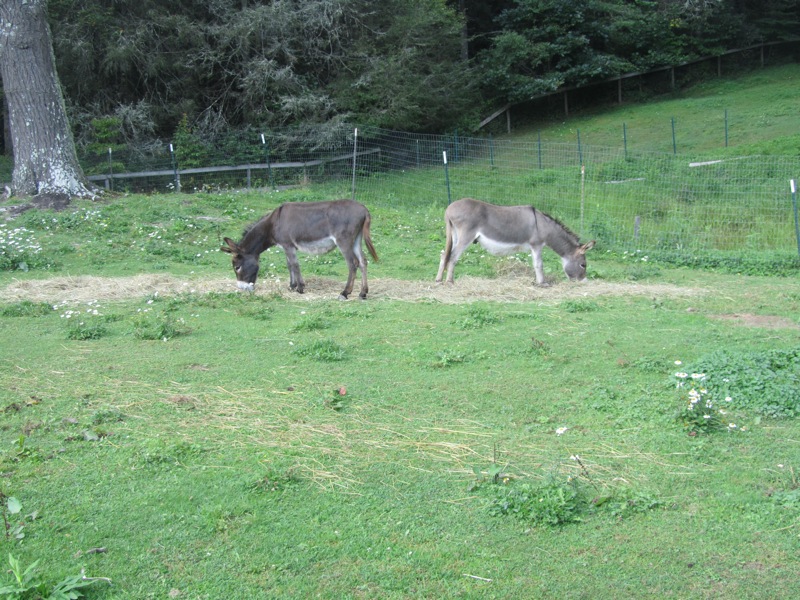 The resort is known for its gorgeous dahlias, which are EVERYWHERE throughout the grounds. They even have a garden where you can go pick your own. Reigning E. in there was a tough task!
When we weren't attending wedding events or hiking a trail, you could usually find us in one place — the lake.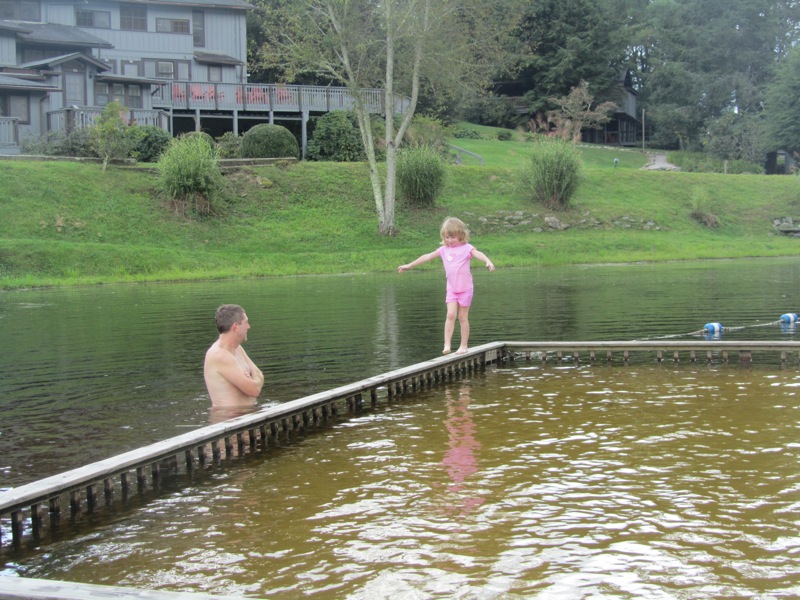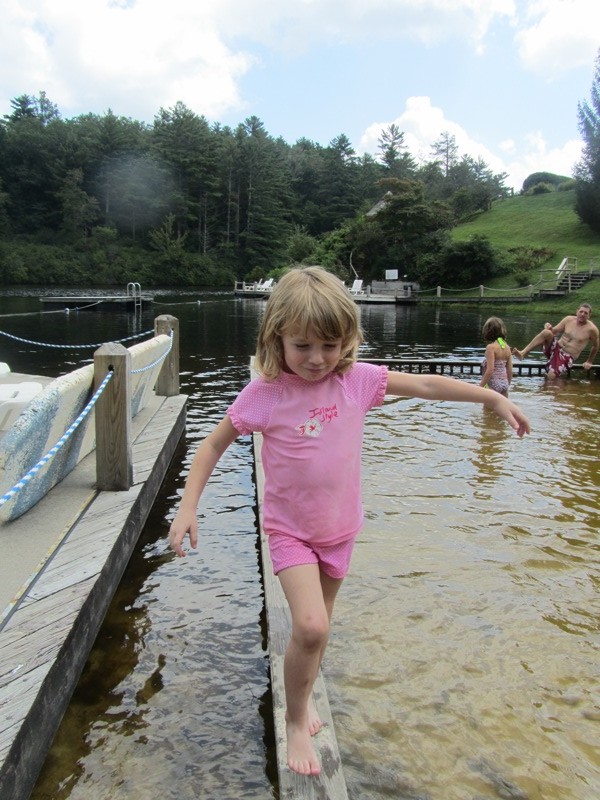 And remember those donkeys? They did more than just graze on grass — they pulled a donkey cart!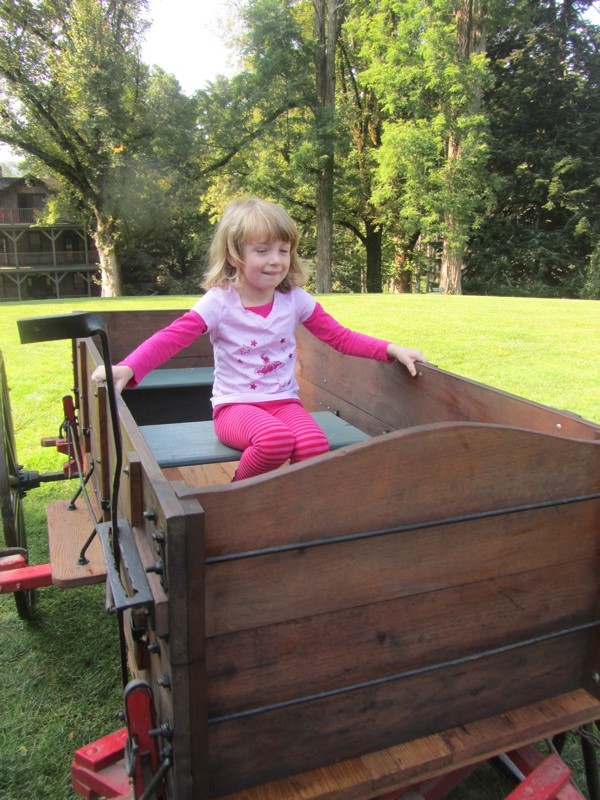 Oh, and I can't forget about what was pretty much the best playground ever.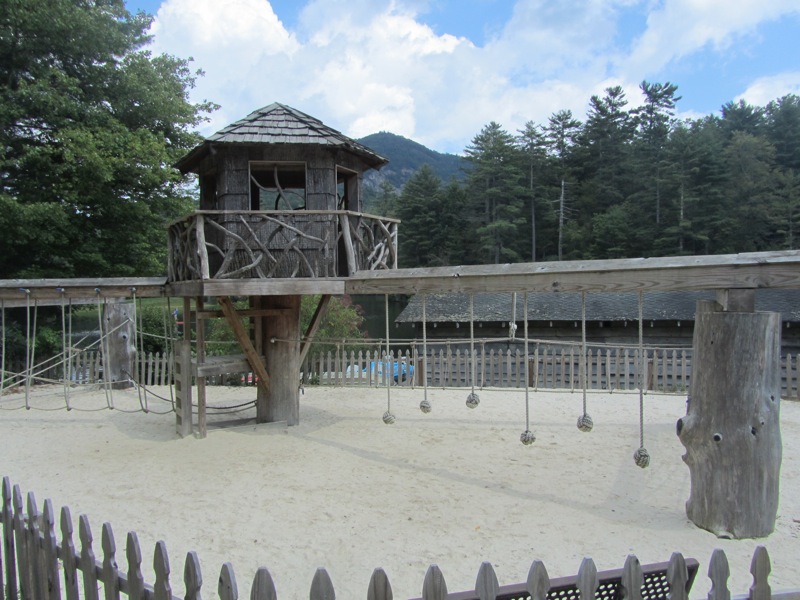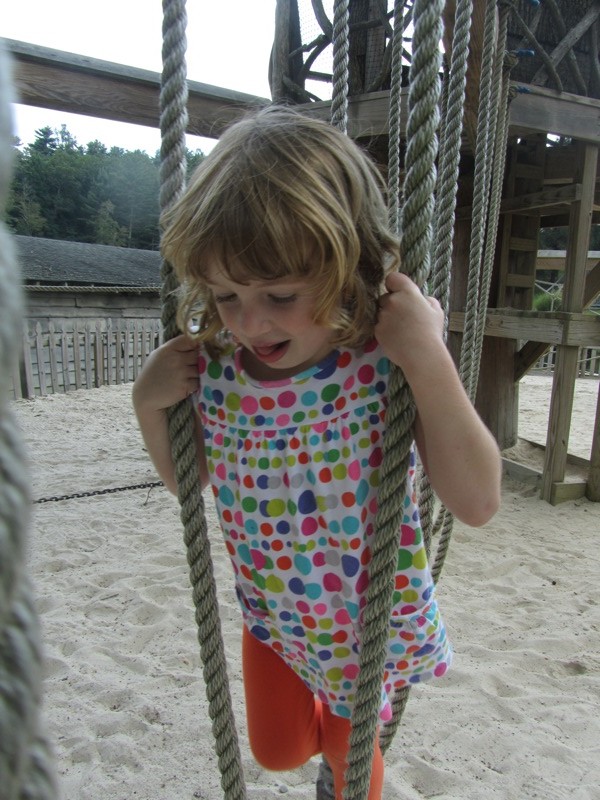 Beyond the outdoor activities, there was also nightly entertainment in the massive lodge, including Bingo (during which E. won $5), some really cool old-fashioned games and nice cozy spots to curl up by the many massive fireplaces and read a book. They also served an amazing buffet breakfast (with perfect biscuits), an afternoon tea and nightly milk and cookies. It was just flat-out good old-fashioned fun.
The bad? The only place you could get cell or Internet service was in the main lobby. That's not necessarily a bad thing but it did make it hard to coordinate with the various family members. Thankfully, you usually just bumped into them on the grounds. Also, for as pricey as the rooms were, they were very rustic. Very. No TVs, no air conditioning and a sort of musty, old smell. Personally, none of that bothered us but if you were looking for a more posh place to stay, this is not it. And for us, that was a very good thing.
We stayed in a cabin that had three separate units — my in-laws and us were on the ground floor and my sister- and brother-in-law — the parents of the bride — were above us. They had a big porch overlooking the lake and kept the living room area of theirs (it has three bedrooms, which housed them, my other sister-in-law and the bride before the wedding) well stocked with snacks and drinks. Having the party HQ right upstairs was really convenient. We could pop up and down, and at night, we could put E. to bed and leave our door open to listen for her as we sat on the porch above.
Here's another fun thing about the High Hampton Inn (at least the cabins). Since it was primarily occupied by wedding guests, we all just left our cabins unlocked all weekend for friends and family to come and go. It really was a throwback.
Of course, the main event was the wedding itself. And check out this backdrop.
Stunning. Just stunning. I loved the bridesmaids' dresses — each one was a different style and they were in varying shades of blue and green. And the men's white tuxedos fit perfectly with the old-fashioned feel of the place. And of course, the bride was radiant and just glowing the whole day. Even a few rain clouds couldn't dampen her spirits. Just five minutes before the wedding was due to start, the skies opened up with a massive thunderstorm. We all rushed inside and spent time hitting the bar mingling until the storm clouds passed. Thankfully, they did within an hour and it gave the entire ceremony a romantic, misty feel.
My father-in-law, who has a Ph.D. in theology and is a former minister, officiated the ceremony, just as he's done for every family wedding (including ours). He did a great job and E. couldn't wait to rush up to him afterwards. Suddenly, her beloved Da seemed like a celebrity to her.
By the time I gathered her for a family picture, she was already over photos and ready to hit the reception. But how often are we all dressed up?
The poor baby had to wait even longer. She was not happy about being kept off the dance floor during the bride and groom's first dance, the bride's dance with her father and the groom's dance with his mother. So pouty.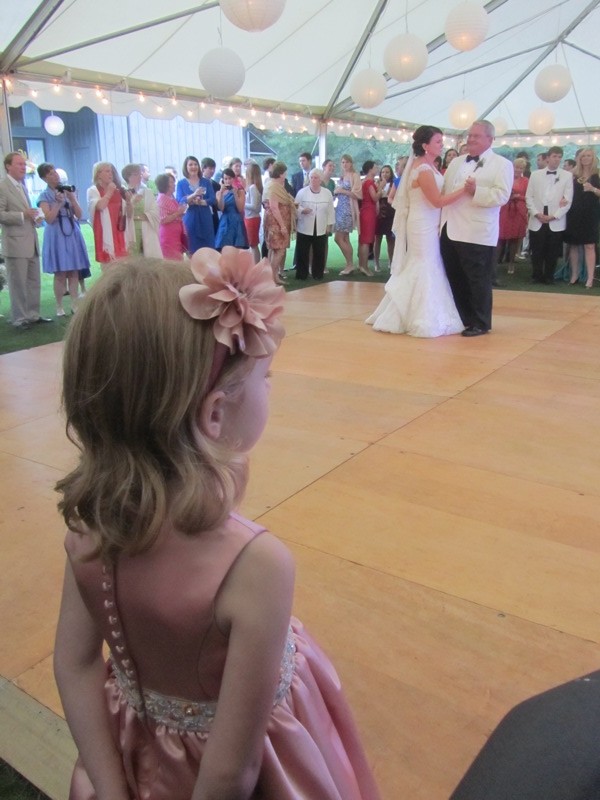 It was finally her time, and she even had a dance partner her own size.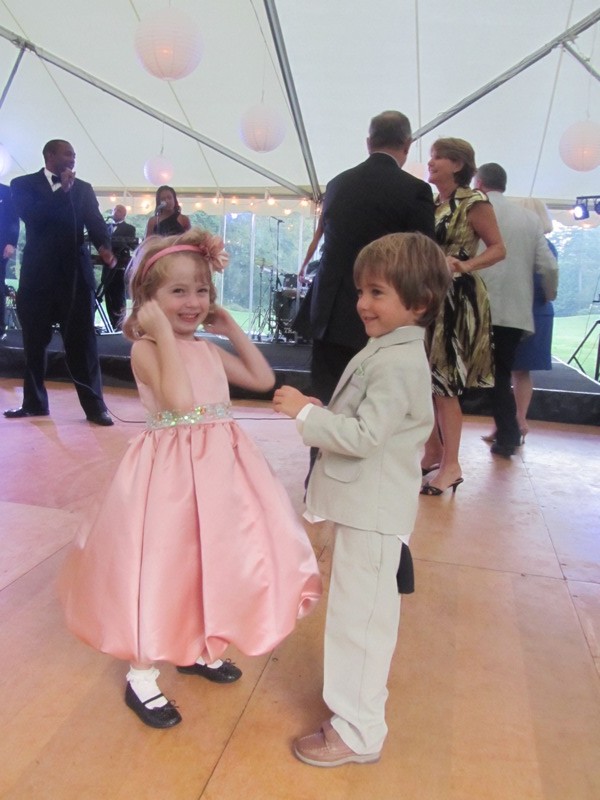 We all nearly died of the cute. His name is Zach and he was also 4 years old. He's a cousin of the bride too (other side of the family), so these two were no kissing cousins. But they were buddies throughout the weekend. At the reception, he sweetly walked up to E. and asked her if she'd dance with him. Thankfully, she accepted.
Sadly, E. then rejected his later dance requests. Harsh. I think she was starting to feel uncomfortable with the paparazzi that descended on the two every time they started dancing together (geez, as a blogger's kid, you'd think she'd be used to it by now). But when no one was paying attention, I saw them hanging out some more. It was cuteness overload.
But there was only person she really wanted to dance with all night — her beloved aunt.
And yes, she is holding a tambourine in her hands. They handed out lighted tambourines about halfway through the reception, and OHMYGOD, it was the best thing ever. It makes me want to re-do our wedding because they were SO much fun. If you're getting married, you must, must, must look into these.
Plus, the band was amazing. They were called the Atlanta Party Band and they rocked everything from Motown to Outkast. They were the best wedding band I've ever heard. Hands down.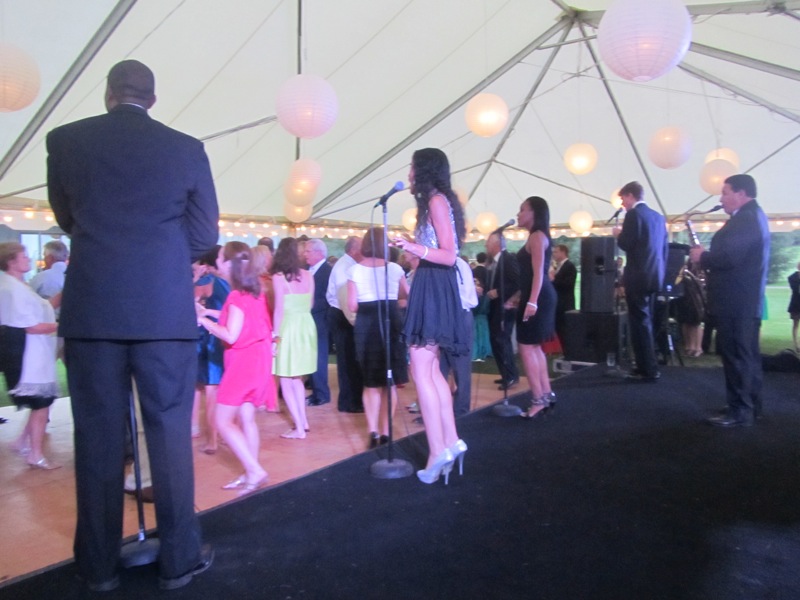 You still with me? I know it's a novel, but it's a trip I know we'll look back on for years and years to come so I don't want to forget a thing!
Up next, I'll tell you about some of the amazing hikes we went on, including a visit to the tallest waterfall in the eastern United States. It was even bigger than Niagara Falls. Stay tuned!