My girl loves everything about school. She loves her teachers. She loves her friends. She loves learning about new things. This summer alone, her 4s class had done everything from make volcanoes to pet 10-foot-long snakes to talk about the peoples and cultures of China and India (even if they were provided with questionable details about how the Chinese make ice cream).
When I pick E. up from school every afternoon, she chatters the whole drive home, telling me about all her adventures of the day. But when I picked her up yesterday, I knew immediately that something was wrong. Rather than her usual running full throttle toward me, she sort of moped over and gathered her stuff.
At first I thought she was just hot and tired because they had just come inside from playing. But as soon as we were safely in the car with the doors closed, she started telling me — unprompted — what was bothering her.
According to E., when she was on the playground with her buddies, one of her good friends pushed her down into the dirt.
I know E's version of the story; I don't know the other child's. But I know kids will be kids. These things happen. It in no way affects my opinion of this child, whom I happen to like very much.
But I also know that it broke my baby's heart. Yes, she'll always be my baby.
When I asked her if she got hurt, she said yes.
"It hurt my feelings, Mommy!" And with that, the floodgates opened. She started crying pretty hard. I was helpless to comfort her because I was driving.
But we kept talking and I asked if her friend apologized and E. said that not only had her friend said she was sorry, she even did it before the teachers told her, too.
So then we talked about how sometimes people lose their tempers and do things before they really think about it.
E immediately piped in with, "It's like that one time when Ho Ho kicked Rintoo because he got mad, too!"
I don't understand why TV is so vilified. Thanks to "Ni Hao, Kai-Lan," I had a "real-world" example to use to make my point to E. Well done, Nick Jr.!
E. told me that the two of them didn't play together for the rest of the day, though, so I knew it was still weighing heavily on her tiny little heart.
As soon as we got home, I hugged her as hard as I could, bracing myself for what I know will be many more heartbreaks in the years ahead. I vividly remember the hurt of being cast off as someone's best friend in 5th grade or not being invited to a sleepover in 7th grade. That shit hurts.
This week I realized that not only will it be impossible to shield my darling girl from similar hurt feelings, it's going to hurt me just as much (if not more) as it hurts her.
Thankfully, for now, such incidents are more easily forgotten. When we got home, instead of asking to watch a show like she normally does, E. instead wanted to climb up into my bed with me. And she sweetly said, "Mommy, can we play the 'I love you more' game?"
The 'I love you more game' is something I started with E. before she could really even talk and now it's one of her favorite things to do. We go back and forth saying things like, "I love you more than all the sand on the beach" (me) to "I love you more than all the times Daddy toots!" (her). The game tends to get sillier and sillier with each turn, and by the end, we're both trying to out-do each other with outrageous things — the wrinkles on Yoda's face, the number of times E's watched "Wizard of Oz or the number of pancakes she's eaten in her life.
And before I knew it, my happy girl was back.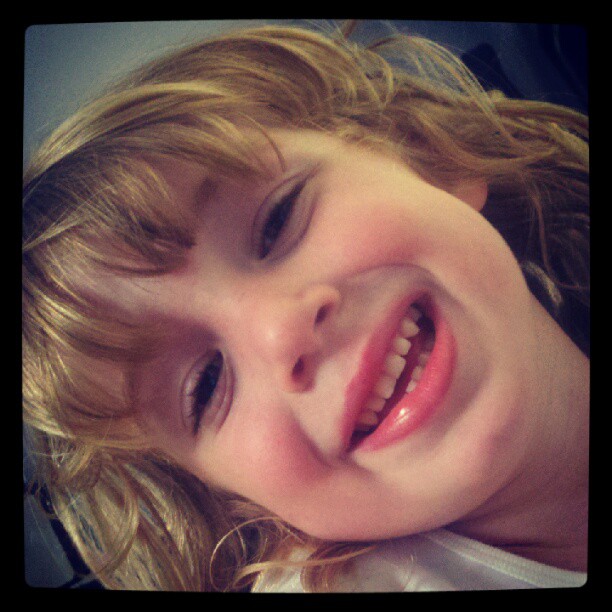 I'm terrified for her to grow up. I'm terrified for her heart to be broken. I'm terrified that I won't know what to say to help, comfort and encourage her. I'm terrified that she'll someday  doubt how truly wonderful, smart, funny and awesome she is just because some girl is mean to her.
(And, for the record, she and her friend were back to being best pals again, too. All is already forgotten, thank God!)
When I was pregnant, I knew what I needed to do to keep her safe. I avoided lunch meats and alcohol. I (begrudgingly) forced down salad after salad and awful prenatal vitamins. And for E's first couple years, I won't say it was easy to keep her safe, but I had a gameplan — I nursed her exclusively for six months, then until she self-weaned at 16 months; I baby-proofed every inch of our home; I cut each of her grapes into 28 pieces and even halved Cheerios. She had swim lessons; she has never been in the sun for extended periods of time without sunscreen. She's still in a harness car seat, even though the state of Florida inexplicably says she can just rock it in the backseat of a car. In terms of taking care of her needs, I had her covered.
But this stuff? I feel like I'm just winging it. Where's the What to Expect When Your Daughter's Heart is Being Smashed book? Suddenly worrying about outlet covers and those deathtraps crib bumpers seems trivial when you're looking into your child's tear-streaked eyes.
How do you child-proof your kid's heart?