If this post reads like one big advertisement for my sister-in-law's cabin, well, you're right. I cannot endorse this place enough. As we drove up the driveway, we knew we'd discovered a little piece of heaven.
It's a short drive up the mountains from downtown Asheville, and it features spectacular views of the surrounding Blue Ridge Mountains.
But the views inside and around the cabin are equally stunning.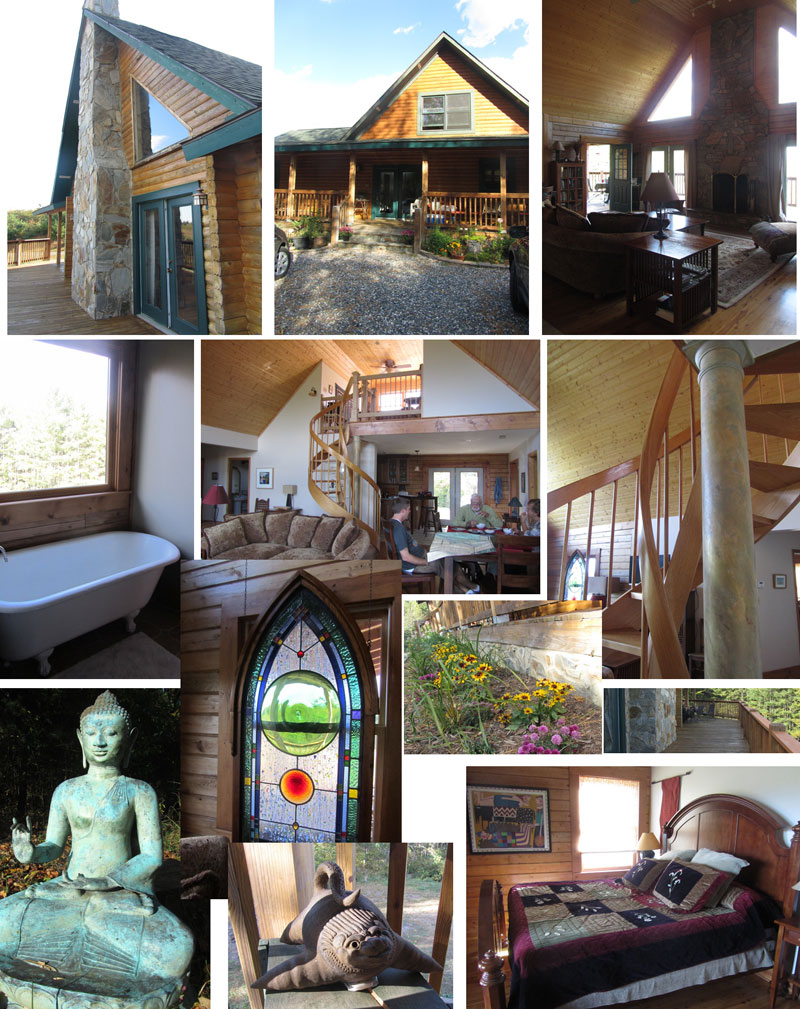 For E., it was a magical place. Her aunt is a renowned textile artist (her work has even appeared at the White House!). The two of them spent hours putting on puppet shoes with some of the puppets my sister-in-law created. There was also watercolors, colored pencils, exotic drums from around the world and a Tibetan singing bowl. It was like a creative boot camp.
And there were mules. By the end of the trip, E. thought she was the Mule Whisperer.
DadJovi almost lost a finger because for some reason, he couldn't grasp the concept of keeping your fingers flat.
One of the best parts of the weekend was star-gazing on the back deck. On Friday night, the moon gave off almost an orange glow (a Harvest moon?). I always forget how it's possible to see thousands and thousands of stars with the naked eye once you get outside of the city. I was really wishing that I'd paid better attention to astronomy in college as we all debated what the bright star was on the horizon. And then I had a flash of genius — isn't there an app that uses augmented reality to show where the constellations are? And 99 cents later we were in business and had our answer — it was Jupiter! It was so big and bright. How cool is that? Yay science and technology!
But the number one reason we were there this weekend was to celebrate my father-in-law's 80th birthday. And we celebrated!
We told stories, laughed, ate, drank wine, enjoyed the view and each other's company and did I mention eat? Inspired by Katy's birthday oatmeal bar a couple years ago, I made a crockpot full of overnight steel-cut oats and set up a toppings bar in the morning. It was a huge hit!
For dinner, DadJovi's niece and her fiancee (they're our age!) made an amazing dinner of pepper-crusted beef tenderloin, broccoli casserole, salad and a hash brown casserole. It was perfect mountain food!
I know that we made my father-in-law's birthday really special. With our family scattered across the southeast, it's rare we all make the time to get together and just relax. Visits tend to be short and rushed and over the holidays. So, I encourage all of you to start thinking of a weekend like this to celebrate something in your lives. I know we all made memories that will last a lifetime, and, hopefully, started a new tradition of heading to the beautiful North Carolina mountains.
And yes, since you asked, the cabin is available for rentals! Just drop me an email if you want more information!
How does your family celebrate milestone birthdays? Do you schedule annual extended family vacations?