I had plans of blogging about our fun fall weekend, featuring homemade apple pies, a trip to the pumpkin patch and a gorgeous afternoon at Animal Kingdom. But then I left my camera at work today, and well, you can't really tell a good story without the picture proof, right?
So, for the sake of story arcs, pretend you saw us visit a pumpkin patch. Here's one picture that tells you all you need to know about how I'm doing in the battle for E's heart and mind — I'm losing. To a bunch of princesses. I mean, what says fall like head-to-toe princess gear?
It was a fight I just didn't feel like having. It's not like we were going to be drudging through fields, digging pumpkins out of the mud. We get them at a nearby church. They have wagons. And people to carry them to your car. It's all very civilized. And I learned a valuable lesson — E is never getting another Halloween shirt again. How dare she refuse to wear the cute one I got her specifically for this outing? Kids. They love to torpedo your plans.
Tonight was the main event though — pumpkin carving. We're traditionalists around here. No fancy monograms, stenciling or cartoon characters for us. Just good old-fashioned scary, crooked faces.
Up first, DadJovi was charged with cutting the perfect lid. I've found the lid can make or break a pumpkin. It can't be too small or your hands won't fit in. And it can't be too big because then your pumpkin will cave in sooner. It has to be just right.
I think he nailed it.
Next, it was time for my favorite part — digging the guts out.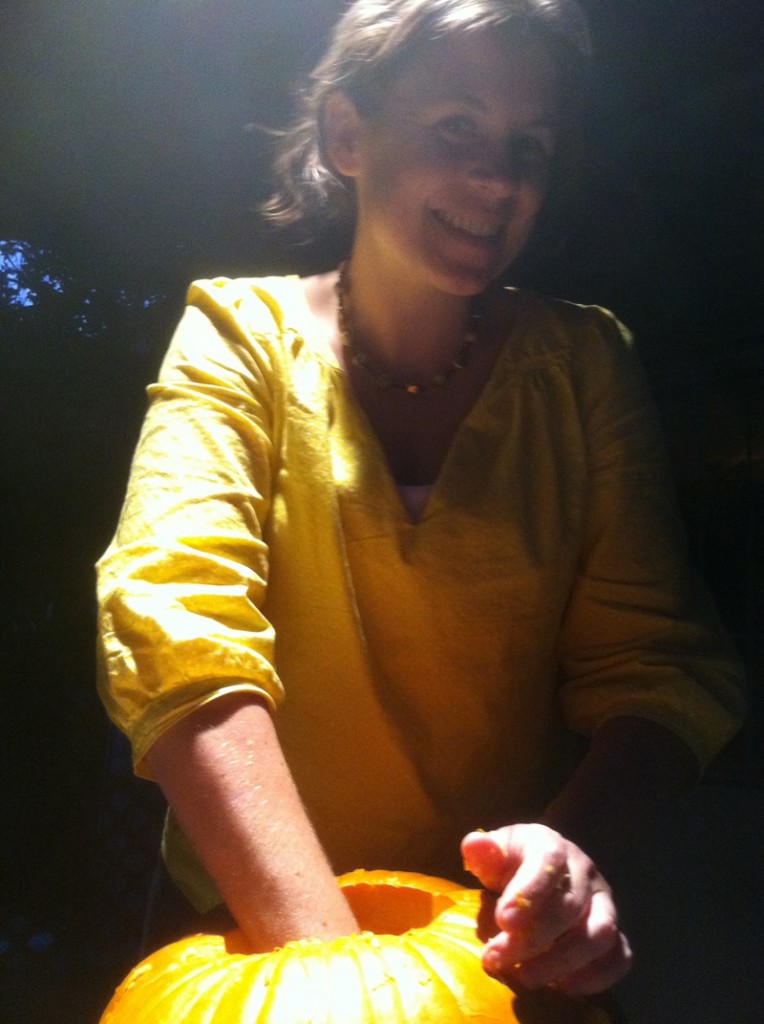 E. wasn't so sure about it at first.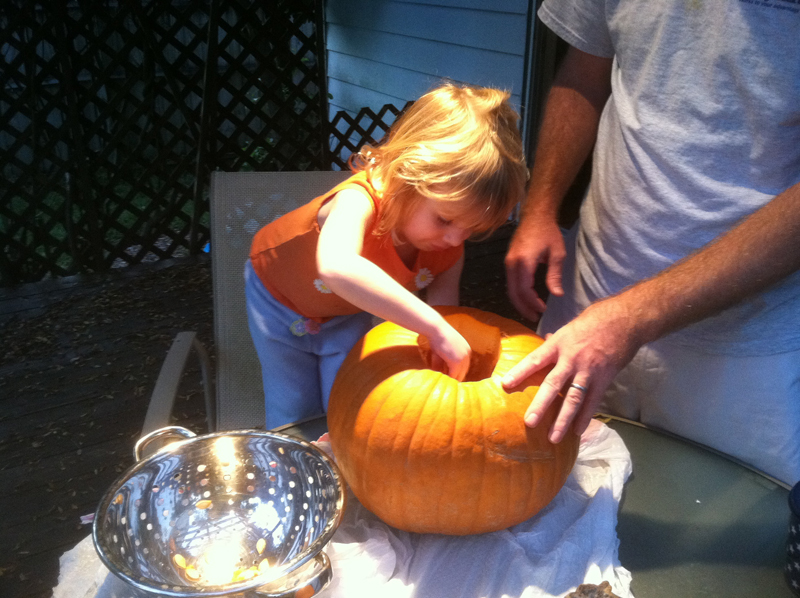 But she finally started to get the hang of it. As DadJovi and I took turns getting that pumpkin cleaned completely out, we also helped E. with the other two pumpkins. We picked up a pack of Pumpkin Push-Ins at CVS. DadJovi was skeptical but we both loved how easy it was. Plus, E. felt like she was playing with a Mr. Potato Head, so she loved it.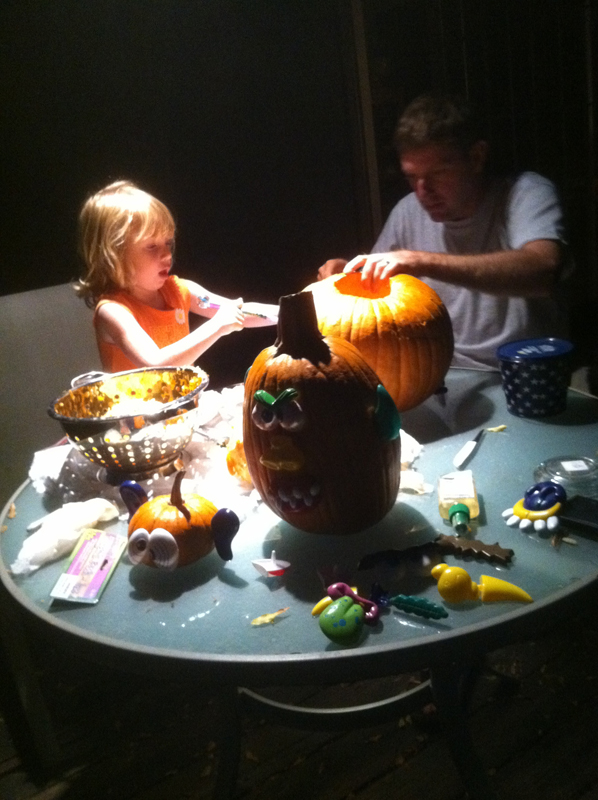 Spookily cute! Best $5 I've spent in awhile.
We also tried something else new this year — LED tea lights to light up the jack-o-latern. I always worry about leaving a candle burning on our front porch so this is a perfect solution.
OK, ready for the big reveal. Ready, set, BOO!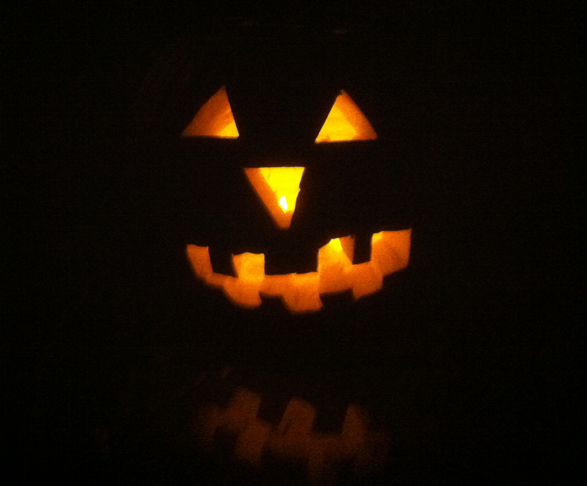 NOW it feels like Halloween. Oh, I almost forgot my favorite part — the seeds! Our entire house smells of roasted, garlicky pumpkin seeds. I predict they're gone by morning. So good. Oh so good.
Do you carve pumpkins? What does your pumpkin's face look like this year? Or has Pinterest made pumpkins like ours a thing of the past? Damn those crafty crafters!