Mama Kat started this meme this week, inspired by a recent Pioneer Woman post. And I say, the more we can all rip off emulate Pioneer Woman, the better off the world will be.
One of the reasons I really love this challenge is because it reminds me of one of our favorite drinking games in college — I Never. You would say something like "I never hooked up with someone on our freshman year dorm floor" and everyone who HAD hooked up with someone on their floor would have to drink. If you didn't do it, you didn't drink. Oh, the games we created for the sole purpose of getting wasted. Plus, it was a fun way to showcase our inner hoochbags. But I digress.
Since I'm an old married mom now, I'll try to refrain from including items like "I never slept with a celebrity, cheated on a boyfriend or booted and rallied." (And you'll never know which — if any — of these is true).
But without any further ado, I give you my list.
I'm 34 years old and I've never:
1. Run further than 7 miles.
2. Jumped out of a plane or bungee jumped.
3. Been to Asia.
4. Driven cross-country.
5. Had my hair professionally highlighted or dyed.
6. Learned how to French braid.
7. Ridden a bike built for two.
8. Been to a game at Lincoln Financial Field or Citizens Bank Park.
9. Paid my cell phone bill on time.
10. Taken a spin class.
11. Been inked or pierced in a place other than my ears.
12. Visited Spain.
13. Read War and Peace.
14. Changed my own flat tire (although I sort of learned once upon a time. I doubt I remember though).
15. Been on Jeopardy.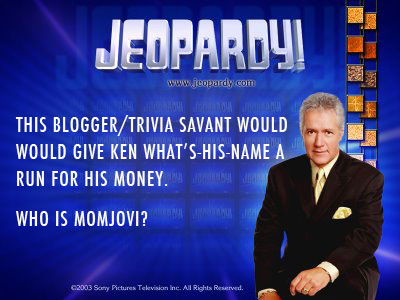 16. Skied or snowboarded.
17. Been able to do a pull-up.
18. Owned a pair of shoes or a purse that cost more than $75.
19. Been to a major music festival (like Bonnaroo, Jazz Fest or Lollapalooza).
20. Had braces or a retainer.
21. Been to the Final Four.
22. Had a bikini wax.
See how fun that was! After you post yours, you can head over to Mama Kat's and link yours up (which is where I'm heading now!). And if this list also helped you remember the amazing things you HAVE done, visit Vinobaby's blog next week to link up with your 22 Things I HAVE Done list.
And tell me which of the things on my list I need to actually do! Or share some things you've never done.