You know I love me a good Things That Suck list, but every once in awhile, I figure it's probably good karma to pause and make a note of some Things That Don't Suck.
1. Awesome Tweets.
Last week, I had two of the best @ replies ever. And that's saying a lot — @ralphmacchio tweeted me happy birthday last year. I know he's a fancy dancer now but he'll always be Daniel-san to me.
But I digress. Last week, you may remember my I Love the Library post. Well, did you see the tweet that the Orange County Library System sent back to me?
[blackbirdpie url="http://twitter.com/#!/oclslibrary/status/98766149046640640″]
I mean, if that isn't an awesome tweet I don't know what is.
The only one that came even close to it last week came from a slightly obscure '80s hip-hop girl group (yes, there were groups other than Salt-n-Pepa. Shocking, I know) called J.J. Fad. The group was best known for their jam "Supersonic." Don't remember it? You remember the hook — "The S is for Super; the U is for Unique; the P is for Perfection and you know that we are freaks; the E is for Exotic and the R is for Raps so tell those nose people to stay the hell back."
Here, jam out with the girls.
Well, somehow Katy had never heard this song before when I was humming it at my desk one day last week (my mind goes to very weird places during the workday). I immediately played her the song and of course had to Tweet about it. Imagine my surprise when I got this tweet back.
[blackbirdpie url="http://twitter.com/#!/jjfad/status/96689860139683840″]
Now THAT'S Supersonic.
2. My Daughter, the Artist, Part I.
Who taught this child how to draw stick figures? And why is a 3-year-old already a better drawer than me?
3. My Daughter, the Artist, Part II.
Perhaps I'm not listening to the right kind of kids music, but over the past 48 hours, I've realized E. knows most of the words to Bieber's "Baby," Taio Cruz's "Dynamite," Black Eyed Peas' "I Gotta Feeling," and Rebecca Black's ode to the weekend.
Fun, fun, fun, fun. At least it's not Katy Perry. Those songs are just downright dirty.
4. Two days in a row of working out!
This doesn't seem like a lot but given my funk lately, it's huge. Yesterday morning I did 30 minutes on an elliptical at a hotel gym (more on that later this week!) and weights on the Nautilus machine. All I can say is ouch. Not working your shoulders and lats out for a long time is a really good way to make them hurt like hell.
But I powered through this morning and did 400m at the pool … finally. The good news is that I didn't drown. The bad news is that I still can't do freestyle. Thank God breast, side and of course doggie paddle are all accepted strokes at the tri I'm thinking of signing up for.
And I'll say one thing for swim workouts — they're hard! I was still sweating 40 minutes after I was done. AND I rode my bike to and from the pool. It's not very far but I'm officially classifying it as a brick.
5. The fact that E. still gets words wrong.
Lately I feel like E. is turning into a big kid right before my eyes … and I don't know how to stop it. But then, every once in awhile, she says something that reminds me that she's not grown up yet. As you may recall, she's Star Wars obsessed, and this week, she has a new favorite — Jennifer Grievous. His name is actually General Grievous but no matter how many times I correct her, she keeps calling him Jennifer. Somehow, it suits him.
6. And finally, Florida.
I loved Michelle's Five for Friday post about the reasons she loves Orlando. One of my favorite parts of the City Beautiful is its proximity to wild and wonderful Florida.
This weekend, we had a family staycation in a new-to-us part of Florida. You'll hear much more about it this week (including my first ever giveway — a staycation for you to win, too!). I can't tell you where yet but here's a little tease. Enjoy the view!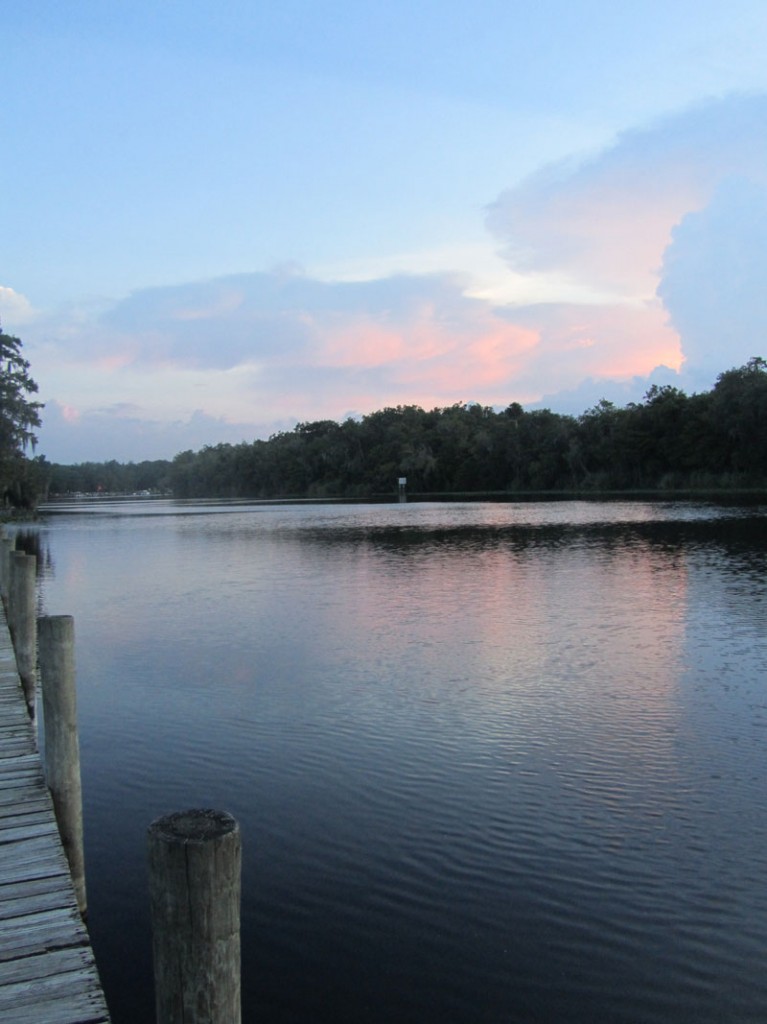 What are the things that don't suck in your life right now?