I'm a bit off the radar this week because my mom is in town. Know what that means? Free childcare!
She came down this week because E's school is closed. They close the week between the end of the summer session and the beginning of the fall session (convenient for a preschool, huh?).
I'm not complaining though because it's been fabulous. I haven't been to a grocery stores in days and haven't had to make dinner. Mom's got it all under control. I'm not sure how she can be home with E. all day and still manage to hit the store and have dinner on the table when DadJovi get home.
And as she's doing that, my stepdad is totally renovating our guest bathroom! I'll post all the pictures when the project is done.
As if all of that's not enough, my mom and I had a girls' night out last night with sushi and The Help.
I loved the book and the movie definitely did it justice … which is so rare. Sure, there were some omissions and some slight tweaks to the storyline (particularly the details around Skeeter's housekeeper) but overall, it was so, so, so good. I expect we'll be seeing some of these ladies come awards season.
Minny was probably my favorite character in the book. When I saw that Octavia Spencer was playing her, I wasn't sure about it. I don't really know Octavia, but she didn't look the way I pictured Minnie. But I've got to say, she NAILED it. She was amazing.
And just so you don't think I'm the only one benefiting from the grandparents being in town, today, E. got to go to SeaWorld for the first time ever! Ever since we saw The Cove a couple years ago, we've stayed away. I still don't know if I can bring myself to go but I knew she'd love it. And she did. Look at this face: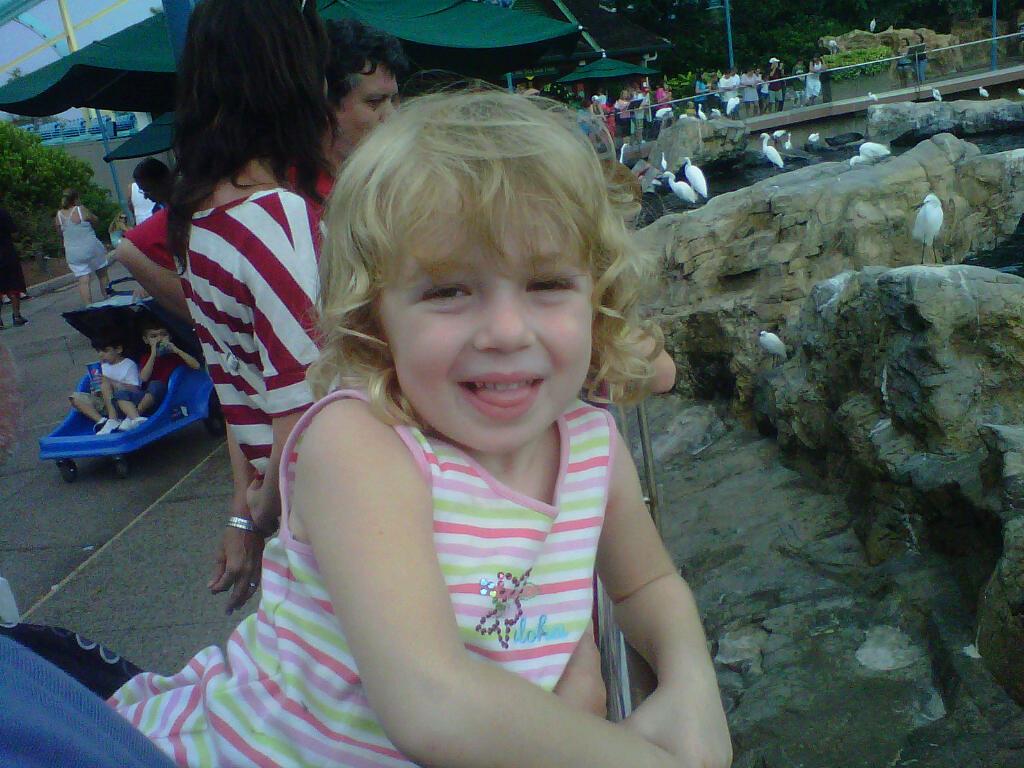 I swear, she's aged 2 years over the past 2 weeks. All of the sudden, she's such a big kid. When she got home from SeaWorld, she told DadJovi and I every detail about the day. And it was actual stories, with beginnings, middles and ends — not just bullet points. I felt like we were there with her with the amount of details she brought home, from her favorite animals (the penguins), to her favorite sound (the sea lions "arfing") to her favorite moment (the walrus "shaking his big body" during the Pirate Show).
And while she was falling in love with sea life, DadJovi and I were being scared by some closer mammalian relatives:
I went into "Rise of the Planet of the Apes" with very low expectations, although after hearing Andy Serkis on NPR recently, I knew I wanted to see it. The way he can manipulate his body to create these characters (Golum and Kong to name two) is mind-blowing. He outdid himself in this one. The apes were so lifelike that you forgot they were actually digital apes, created using motion capture.
And I may be the only person who actually liked the Marky Mark version a couple years ago, so I thought I'd at least be entertained.
The movie was pretty slow for much of it but they're clearly setting it all up for an eventual sequel. We both liked it a lot but DadJovi wanted more monkeys and less Franco. I actually thought this was one of his best roles. Somehow he didn't overact it. And why did no one tell me Draco Malfoy is in it?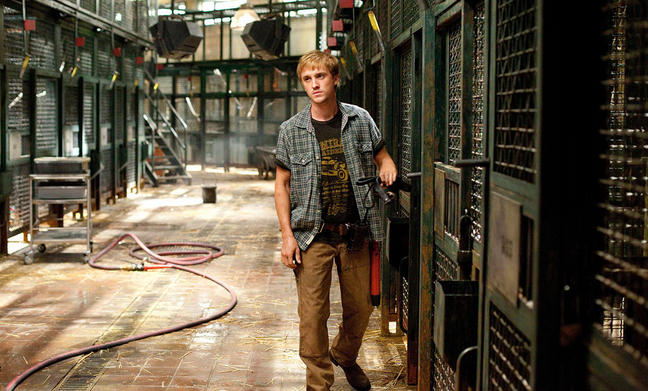 Spoiler alert — he's a bad guy. Um, can you say typecasting?
I think I probably liked it so much because I think my movie standards are just lower these days. Since I never get to go to the movies, the fact that I've seen two in two days feels a bit like a bender to me. And just like any good bender, I don't care if it's a top-shelf martini or Milwaukee's Best — I'm just happy to be getting my party on.
So, THIS is what it's like for the rich. I have time to exercise, someone else is making my dinner and doing my shopping, and my daughter is being looked after lovingly.
Think my mom can extend her stay for another week?