Back to reality today.
It's the first day of school! Even though E. was in her preschool all summer (sorry, they call it "camp" during the summer), it felt like a first day of school after her week off last week. Her school closes the week between camp and the new school year, and a lot of her buddies who weren't there over the summer should be returning today.
After six days in a row of sleeping until at least 9:30 a.m. (true story), I had to go in and rouse sleeping beauty at 7:30 this morning. She was not happy.
But the allure of French toast sticks eventually got her out of bed. Plus, she knew she would get to wear the new back-to-school outfit, including her funky new big-girl shoes from Gigi. And if that wasn't enough, she got a new lunchbox that she picked out last week.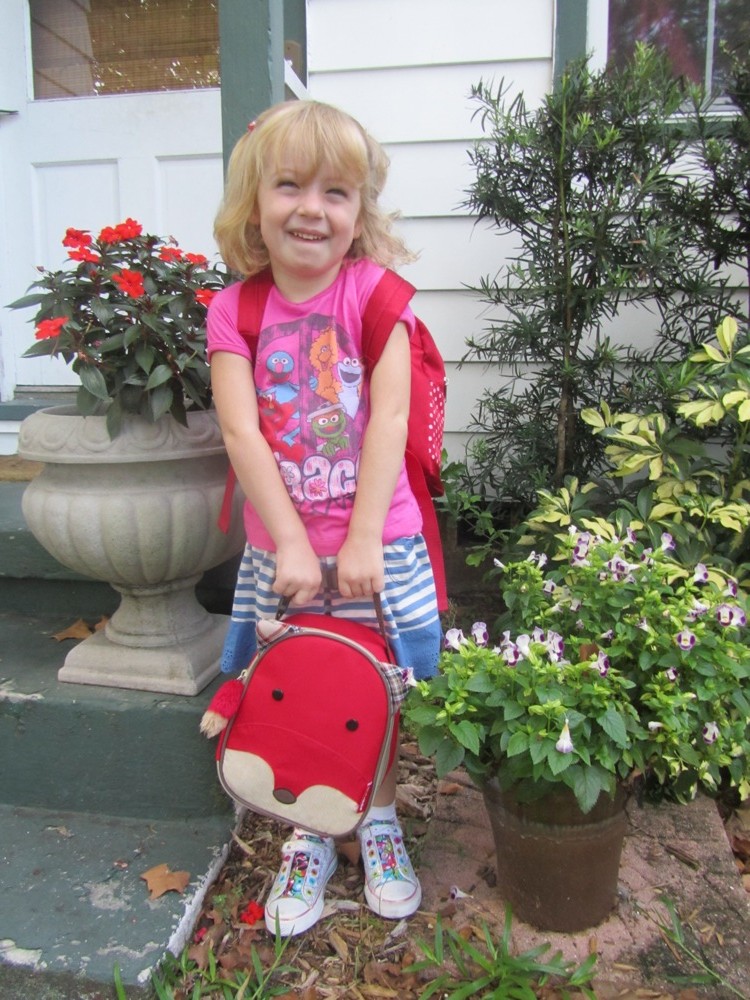 I told DadJovi he needs to savor this moment. The ONLY thing we bought for back-to-school this year is a new lunchbox. And even that wasn't really necessary but I knew it would help get her excited about the "new year," even though she'll be in the same class and with the same teacher she's had all summer.
But she's very excited about her fox lunchbox, especially its fuzzy "tail" that is the zipper. I already hate it. It only fits half the stuff as her old Toy Story lunchbox, and I'd like to avoid switching to plastic baggies if possible. The fox's life may be short-lived.
For today, though, the day was full of new possibilities and the promise of seeing old friends, including her kissing buddy who took the summer off. That child better be back in school. E. has been counting down the days until he comes back.
I'm just glad that we're hopefully past the days of tear-filled dropoffs. Ever since making the switch to her new school a year ago, E. has raced out the door most mornings, excited to go. I hope that feelings never fades.
And I stayed tear-free because I know I have one more First Day of School before the big one in two years — kindergarten. On that morning, all bets will be off.
What was your favorite lunch box growing up? Mine's a tie between one with the Ewoks on it and one with the Care Bears.