During one of my recent cleaning sprees, I came across a true treasure. These …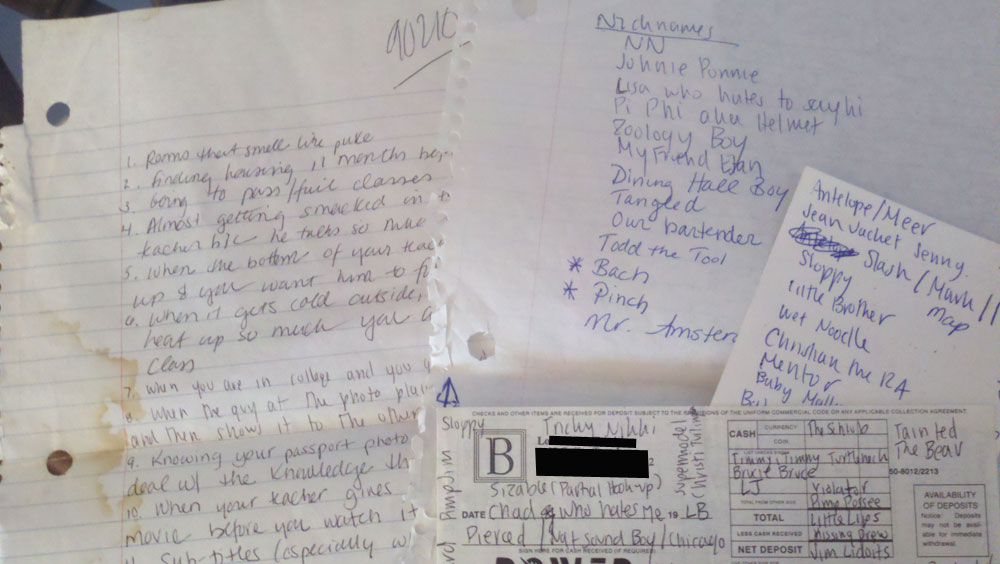 I've read them about 17 times and I keep laughing so hard it hurts. These are lists of nicknames that my best friend and I made during college. We had the most random nicknames for everyone who crossed our path.
Some of my forgotten favorites include:
Jean Jacket Jenny — yup, she made the fatal mistake of wearing a jean jacket EVERYWHERE the first two weeks of college. It stuck all 4 years
Tainted — he was a HOT guy who we loved who hooked up with a not-so-hot girl one night, thereby tainting him to us
Seafoam Green — this was a guy I went on one date with freshman year. For the life of me, I can't remember his name but I DO remember his seafoam green Ford Explorer
The Navigator — he wore one of those leather jackets with a map on the silk lining to a party once, and well, the name was a stroke of genius by Miss
Lisa Who Hates to Say Hi — the name seems pretty self-explanatory
Chad Who Hates Me — again, another descriptive nickname
Lest you think we were these girls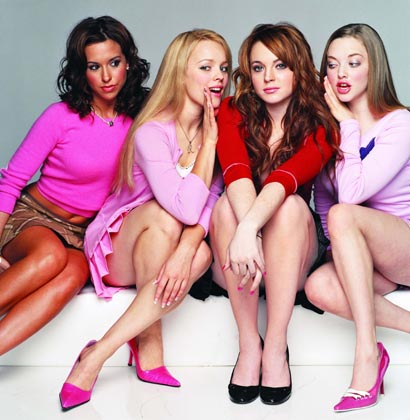 … you should know that these were names just between us. Sure it was a little Slam Bookish of us, but for the most part, we were more making fun of ourselves rather than other people.
And, by the way, how amazing is it that for some reason, we made a list on one of our roommate's check reorder forms? That fact alone made me laugh for a good 5 minutes.
This is how we passed the time in boring classes or while we suffered through — God forbid — COMMERCIALS! You see what's written at the top of the paper on the left? 90210. Clearly that was a reminder for one of us to tape it that night on our VCRs. Man, we're old.
But we loved something even more than nicknames. We spent hours and hours making Things That Suck lists. It helped us survive the fact that we were chronically broke, freezing our asses off in Syracuse and picked every wrong guy that we happened to spot on campus.
Here are some of my favorites from that list:
When the guy at the photo place laughs at your picture — and then shows it to the other worker. (This was when we got our passport photos taken before going abroad for the semester and they were not good … which explains the next item)
Knowing your passport photo is bad and having to deal with the knowledge that it's valid for 10 years.
When you are hung over, have a bulging zit, wearing your glasses and you see the most eligible bachelor on campus (another nickname).
Wouldn't it be nice if those were still our biggest problems?
So in honor of a tradition that brought me so much joy, I'm bringing back the Things That Suck List. Oh, it's going to be a weekly thing. Brace yourselves. I know, I know. Oprah would tell me that instead I should be making lists of things that are awesome. Well, I'm not that kind of a person. I'm sarcastic and I like to whine. It makes me feel much better than any gratitude list ever could.
I'll get us started but feel free to add your own items to the official MomJovi Things That Suck List (™ — OK, fine maybe not. But maybe someday I will).
Having a pretty good idea and no idea how to trademark it.
Living in a state that makes you feel like you're living in a sauna … for four months.
The smell of brush fires in the morning. As if I needed another excuse not to run.
The Casey Anthony trial preempting General Hospital every day and my DVR not being smart enough to find it on another channel. And I keep forgetting to manually record it.
General Hospital
Replacing my General Hospital viewing addiction with a Casey Anthony trial viewing addiction. Aren't I too smart for this?
Spending hours cleaning for the cleaning lady.
Cleaning the areas the cleaning lady missed.
Not being rich enough to have a permanent driver. Limiting my wine intake makes book club way less fun.
When your toddler wipes her blue Toy Story toothpaste all over your white shirt as you're about to walk out the door for work.
OK, I think 10 is a pretty good starting place.
Tell me — what makes your list of Things That Suck?