Today was the Mother's Day Luncheon at E's preschool. She's been practicing her song for months (I'm not kidding. Her teacher runs a tight ship — she's been singing it since February).
All week long, she's been looking forward to singing to me and giving me the present they made (little flower pots with pictures of the kids in the center of paper flowers. Adorable).
I knew The Diva wasn't going to be shy about hitting the stage, and I was right …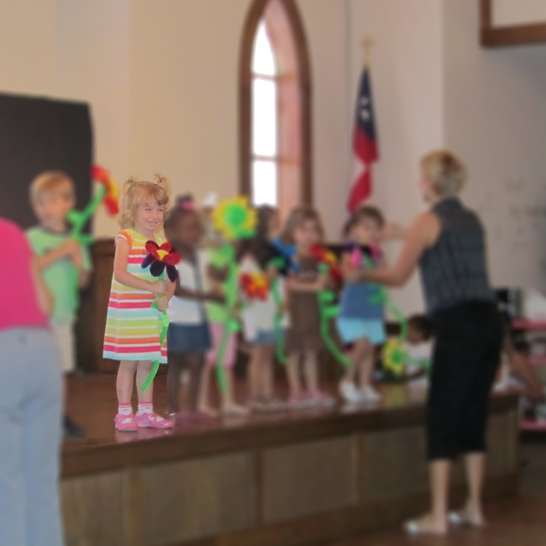 Ignore the banged up blurring. Someday I'll have a fancy camera. For now, I'll just use Photoshop blurs to (badly) protect the identity of her buddies.
But look how excited she is? And when the singing started, she was in all her glory.
At first I thought it was just my imagination that she was as far front as possible. Then I checked their feet.
Yup, she's practically jumping off the stage. She's just getting an early start on her rock star career and is ready to crowd surf at any moment.
But the real highlight of the day was her About My Mommy questionnaire. I think it speaks for itself:
Yup, that all looks about right to me. Well, except for one thing. Don't be fooled by the broccoli. I may cook it, but it's never passed her lips once. No matter how much bribing I've tried. But everything else, especially the age, is dead accurate.
But now I must go because yes, she's right. I AM tired.