Hey, did you happen to catch Caitlin of Operation Beautiful on the Today Show this week? She was great! Here's my two degrees of separation — my good friend and co-worker Katy is friends with Caitlin. So through Katy I've been following Caitlin's progress over the past year or so as her inspirational idea went from blog to book and now full-out media campaign.
E and I were planning on attending a free Mr. Richard concert at our local Border's this morning (I'll save my feelings on these mob scenes for a future blog) so Katy asked me to check out if Operation Beautiful was on the shelves … it was! Ta da …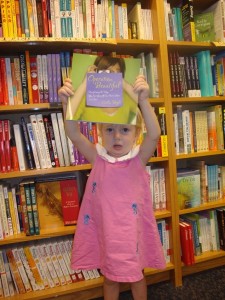 How exciting! We quickly paged through to the acknowledgments page to find Aunt Katy's name …
I just LOVE the idea of Operation Beautiful. Make sure you check out the site to learn all about its mission and how it's changing the lives of girls and women around the world! Believe me, as a mother of a daughter, I'm already worrying about these things. I remember all too clearly the trauma of junior high, high school and beyond, when comparing your body to others was practically its own sport. I just hope that messages like Operation Beautiful become the standard and skinny, mean weight-obsessed bitches become a thing of the past!
I think we've found our new favorite bedtime story!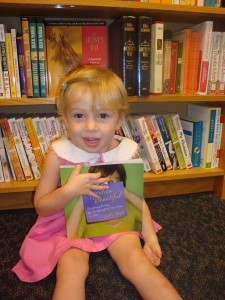 What lessons do you teach your daughter about body image?